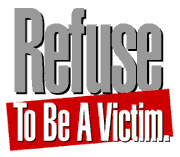 Three Of Four Women Fall Victim.
So Even Your Odds.

Did you know three out of four American women will fall victim to violent crime at some time in their lives? But that doesn't mean you have to be a statistic. You do have a choice. Experts agree the single most important factor in surviving criminal attack is to have an overall safety strategy before you need it. Now, through a three-hour confidential seminar called Refuse To Be A Victim (shorter presentations are available). You can learn the personal safety tips and techniques you need to avoid dangerous situations, and avoid becoming a victim.

October, 1998:

SENATOR HELMS PRAISES NRA SAFETY PROGRAM
'NRA's 'Refuse To Be A Victim' is a valuable, sensible program.'

FAIRFAX, Va. Oct. 1998 - U.S. Senator Jesse Helms (R-NC) applauded the National Rifle Association's Refuse To Be A Victim(TM) personal safety program on Oct. 8 by issuing a statement in the Congressional Record. Senator Helms's statement came in the first week of National Crime Prevention and Domestic Violence Awareness Month.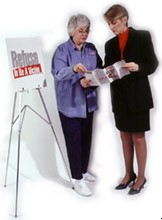 "The National Rifle Association created the Refuse To Be A Victim program five years ago," said Senator Helms. "The basic premise of the program can be summed up by an old saying -- an ounce of prevention is worth a pound of cure."
The Refuse To Be A Victim program was introduced in 1993 by the women of the NRA in response to safety needs expressed by women nationwide. With over 600 instructors nationwide, more than 10,000 men and women of all ages have taken advantage of this three-hour safety seminar which provides common-sense crime prevention skills by teaching awareness and avoidance.
Some of the common sense prevention choices offered by the program include advice on home and phone security such as keeping trees and shrubbery around your home well trimmed to avoid creating hiding places for criminals or not providing your name and phone number on your answering machine message. The Refuse To Be A Victim program provides practical but often overlooked tips for use at work, in an automobile or while on travel as well as the responsible and safe use of personal safety devices such as keychain alarms or defensive sprays.
"By increasing awareness of dangerous situations and providing knowledge of self-protection techniques and crime-fighting and personal safety resources," said Senator Helms, "the program maximizes its participants' ability to successfully avoid or, in the worst case, survive an attack."
He added, "The contributions of the Refuse To Be A Victim program are indeed impressive. This program is a fine example of the type of pro-active safety and security training that the National Rifle Association has long provided to our citizens."
For more information on attending a Refuse To Be A Victim seminar or becoming a Refuse To Be A Victim instructor, please call the NRA at 800-861-1166 or visit the program on the National Rifle Association's web site.